On Tuesday March 20, 2001 I started on a brief trip from Cheyenne, Wyoming to Tucson, Arizona. This is a summary of the adventure. Actually the focus of the trip was the road from Socorro, New Mexico to Tucson, Arizona--a segment of highway I'd never driven before, but I start the log on tuesday evening as I left Cheyenne. Please do not take this trip log too seriously--I'm not nearly as crabby as I seem. It's not like I'm submitting this to, say, The Lonely Planet. I just write about what I see.
Tuesday
I didn't leave Cheyenne until about 4pm. The drive between Cheyenne and Colorado Springs I've made so many times that I have little interest in it. This time, however, I had quite a scare. Because I didn't get started until 5pm, the world soon became dusky. Near Berthoud, Colorado, I was following a Flying-J tanker truck at about 65-70mph. There was a long line of cars passing the two of us in the left-hand lane. Suddenly one of those once rare but now ubiquitous impatient drivers, doing what I'd estimate as 100mph, came from behind me in the right-hand lane, and just shot between me and a car passing me on my left. Everyone in the left hand lane slammed on their brakes. I have no idea how this person missed me or by how much he missed me, but he put his silver-colored SUV nearly on two wheels as he swerved around the tanker truck.

p>In twenty years of driving daily on Washington, Colorado and California freeways, I only recall such driving and such speed once, and that person was trying to elude the Washington State Police. Now it is common for someone doing 100+ mph to pass me on I-5 or I-25 every day. And what's really weird is that no-one else on the road seems outraged. Can anyone explain what is going on?
Wednesday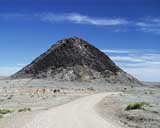 South of Denver the front range of the Rockies invades the plains along several 'salients.' One of these is between Denver and Colorado Springs, another between Pueblo and Trinidad, and a third extends from Trinidad to south of Raton, New Mexico. The trend at Raton is, of course, the leading edge of a mantle hot spot. I don't know what has caused the other two, but between Pueblo and Trinidad are occurences of volcanic rocks of recent origin. One is a butte of basalt near mile marker 57 on I-25 (the photo above is of this butte). It stands quite prominently on the east side of the highway, and the Colorado Highway Department refers to it on highway signs as a "point of interest." The gravel road to the butte and the butte itself are marked prominently with "no trespassing" signs. I don't think the land-owner is clued in to the "point of interest."

East and West Spanish Peaks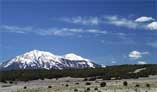 One of the more inspiring sights from I-25 in Southern Colorado is of the Spanish Peaks region between Walsenburg and Trinidad. Many of the peaks, such as East- and West Spanish Peaks, Black Hills, and Dike Mountain, formed as ingeous rocks intruded into overlying sediments during Eocene times(about 40-50my ago). The intrusions not only lifted the sediments immediately above and near, but also produced sufficient stress in the surrounding region to open radial fractures which then filled with ingeous rocks, forming dikes. These dikes extend for many miles and some lie east of I-25. The accompanying geological map, which is modified from one in Paul Johnson's book on Physical Processes in Geology, shows the dike swarm around Spanish Peaks and I have included a photograph of a prominent dike east of I-25.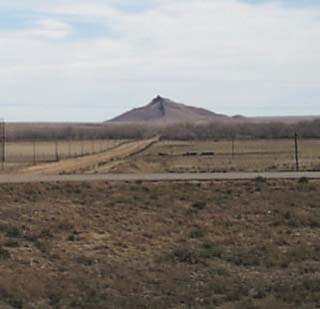 More mountain-building followed soon after that which produced the Spanish Peaks region. The most recent has lifted sediments and forced volcanic rocks to the surface along the Raton Trend. A spectacular example of this is a massive limestone cliff, known as Fisher's Peak, which dominates the town of Trinidad. Its top is now some 3000 meters above the seabed where it was originally deposited. Fisher's Peak is quite apparent on the southern horizon from as far north as Pueblo, and provides a really impressive setting for Trinidad itself. Within the town limits I-25 begins its climb toward Raton Pass. I'd only gone over Raton Pass twice before in my life; Once in a blinding snowstorm at night, and the other in late afternoon driving a truckload of furniture with an ABS warning light blinking at me. Neither earlier drive encouraged much sight seeing.

Raton Pass is a brief but very pretty drive. In fact, it was so inspiring on top, that I thought about calling anyone to tell them about it. But my cell phone was missing. Had I left it in Cheyenne? Did I leave it in the old rental car when I got the new rental car? Was some bad boy now calling everyone in France? Loosing the cell phone is like not being able to remember if you turned off the coffee pot before you left home.

The panorama below looks west at the northern Sangre' de Christo Range and Spanish Peaks area from Raton Pass. If I were to ever move back to Colorado, I think Trinidad might just be the place.

The Sangre' de Christo
I don't mind an occasional unpleasant surprise when I eat. So, I never eat in fast-food places along the highway. I prefer, instead, to try a local dive. At lunch time I stopped in Springer, New Mexico and ate at 'El Taco.' Not an inspiring name, I'll admit, and not a place that anyone in town recommended, but the food was great. I had two tamales, sans queso, smothered in a red sauce, and served with whole pinto beans (refrito frijoles in New Mexico are usually the leftovers on day two) and hominy. Oh the hominy. I'd forgotten all about the hominy. Forget the MacTacos, folks, and Burgers del Rey. Get off the highway in little New Mexican towns and have some posole.
I had a dinner engagement in Albuquerque at 6:30, so I got out of Springer right after lunch and drove. Eastern New Mexico has strange topography. It'll be flat as Kansas for miles, and suddenly ahead will loom a few high bluffs of basalt. The highway heads straight for them, weaves around a little, and then returns to a straight line across flat ground again. However, the country between Las Vegas and Santa Fe is grand. It's a solid forest of Juniper and Pinon which gives way to Ponderosa and Lodgepole in higher spots. Do not travel this part of I-25 at night or you'll miss it.
Sante Fe is a good stop, I suppose, if a person hasn't been there before, but I don't see much point in stopping now. It was a charming place 25 years ago, but the wealthy folks have wrecked it in the meantime. It's trendy. It sprawls. It got designed to death.
Many years ago I ate at a place called the Pink Adobe. In those days they burned Pinon in a fireplace near my table. It was southwestern, and romantic. The last time I ate at the Pink Adobe it was too well lit, there was no Pinon fire and the food was designer with something like a mole' sauce written across the plate in a Gloria Vanderbilt signature. People can love a place to death, I guess, and that's what happened to Sante Fe. People came, they loved it so much that they had to stay, and to compound the crime of overstaying they felt obliged to contribute their little authentic southwestern whatever, and now the whole thing is synthetic. I suppose it could be my memory playing tricks on me, but I just don't think there is much genuine Santa Fe left.
Albuquerque has changed even more than Santa Fe. It is a big mess that has spilled all over along the Rio Grande. It is a young town. Almost everyone seems under 30. All the children of the boomers in New Mexico have grown up and moved from the small, dull places to the bright lights of Albuquerque. I stopped at some shopping mall at the intersection of Wyoming and Paseo Del Norte, and hunted like mad, unsuccessfully, for my lost cell phone (more about that later). Well, thank goodness there are still a few operating pay phones.
Thursday
Chrysocholla and my hand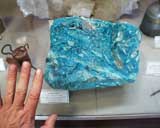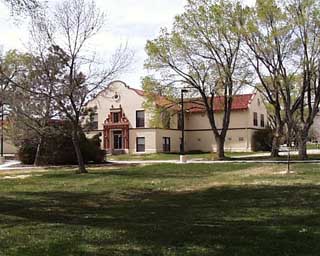 Socorro is a charming little town. My only other visit here was 14 years ago when I stayed overnight at the San Antonio wildlife refuge south and east of town, which, by the way, is a worthwhile stop and a great place to car-camp. In Socorro I went to the School of Mines, and visited the library and the New Mexico Bureau of Mines, and had a good look around the mineral museum. The photo that starts this section is of the student services building, and shows the campus' charm. However, what charm downtown Socorro, itself, has is just a few blocks of older buildings that mostly seem abandoned. The Val Verde Hotel is an interesting bit of architecture, but I can tell it is a struggle to turn it into a mall of boutiques.
I overheard a conversation among three women in a store in the hotel. One was telling the others a rumor about a family who had lost a grandpa a couple of days earlier when his tractor rolled over on him, and a granddaughter driving back from Colorado to the funeral--the pretty grandaughter, the one who was going to marry the Rosales boy--involved in an accident and killed as well. It was a shocking sort of thing to overhear. I thought about the multiple tragedy a little--well, not about it exactly, but about something related. Throughout New Mexico there are little shrines everywhere along the side of the roads. There are so many that a driver soon learns to ignore them. Some are only a white cross, or two, or three. Some are decorated with flowers, or occasionally with a teddy bear. Of course these area all shrines to victims of highway accidents, everyone knows that, but these victims are mostly children and young people. Forget about guns in the high schools, folks, they ain't the real problem here--get the kids outta the fast cars.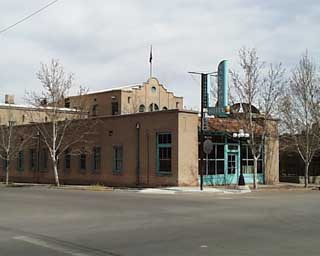 ValVerde Hotel

As I left Socorro there was a funeral procession--a long line of cars rolling slowly down I-25 to some small place. At milepost 63 I got off I-25, intending to drive west to Silver City on a back road. The sign warned me of no gasoline stations for the next 68 miles. I looked at the gas gauge and thought to myself "no problem." Let me warn you folks, if you ever take this trip, have a second look at that gas gauge. The road ahead, which I didn't drive in one sitting, was posted 30mph but was in large measure a succession of 15mph hairpin turns. I drove from Hillsboro on to Santa Clara with one eye on the gas gauge and the other on the hairpins. It just ruined the experience.

Hillsboro is a little bitty place. Once it was on its way to becoming a ghost town, but it is having a revival. Retired folks are buying up cheap property and moving there. There isn't a gasoline station, but there is a post office, and a general store, and 3 good places to eat. I stopped at the Barber Shop Cafe, which is run by an attractive woman, who bragged that she was born and raised near Hillsboro, and her carbon copy daughter. They have some special "California-style" burrito, smothered in a green sauce that they advertise as very hot. It's not hot, I assure you, especially after lunch the day before at 'El Taco.'

Kingston is the next town along the way. I couldn't see anything from the road. There is a fire station, but I can't see what the hell it protects. The town is all but abandoned, and the buildings that aren't abandoned are besieged by junk. I needed a tour guide.

Anyway, beyond Kingston I was on a steep, narrow road worrying about running out of gas, and thinking about the 40-odd miles back to I-25. As soon as I saw the Kneeling Nun above the Santa Rita Mine, though, I knew I could coast to a station if I had to. Whatever else a person might say about the Santa Rita Mine, it is surely one hell of a hole. I stopped and got a couple of pictures of a drill rig working on a bench near the bottom. Unlike so many of these gigantic holes in the southwest, the Santa Rita Mine is still working. Its piles of waste rock seemed to me to be higher than any of the nearby mountains. More piles of waste rock surround Silver City, Bisbee, Globe, Miami, and Tuscon, and they all look basically the same. One set of pictures will do. Whenever I write that I stopped to look at such-and-such a mine, just refer back to this photo below of the Santa Rita Mine.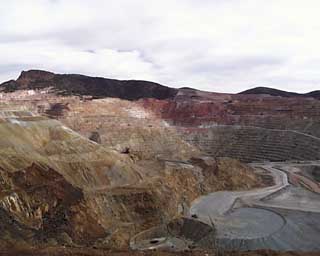 The Santa Rita mine.

There was one more disconcerting event on this leg of my journey. Below the Santa Rita Mine, about one-half way to Santa Clara, there is an intersection where 5 roads come in from 5 different directions, and not one of them is marked Silver City! I sat there for a moment, just dumbfounded that I could be within spitting distance of a gas station and not know which way to go. I pulled over and dug through the back of my car looking for the only map I had of the area. Have you ever tried to use a geological map as a road map? It's miserable. You have almost no hope of separating boundaries between brightly colored geological units from roads and other features. It is a situation where being color-blind would be a blessing. The good thing that transpired was that my long lost cell phone fell out of one of my extra shoes. In the end I didn't need to fret about lack of directions. It turns out that there is a road leading from each little town in this area to every other little town. It's New Mexico's version of the Bridges of Kronigsberg puzzle, and the worst you can do is take the long way by accident.

I have no idea what I was expecting to find in Silver City, but it was the biggest disappointment on the trip to this point. It does have a charming, and well preserved downtown area. I took photos of a church and a wonderful Spanish-style house. But the rest of the town sprawls. It looks like almost every other town in the desert southwest--surrounded by stuff and not enough vegetation to hide a bit of it. There is a museum, and, as every traveller should know, museums in these small towns always have something interesting in them--certainly something more interesting than the parodied World's Largest Ball of String. By coincidence, there was a special exhibit in the museum on New Mexico ghost towns. One photo shows the barber shop at Hillsboro in 1957 advertising haircuts for a buck. This has become the cafe in which I ate the California-style burrito.

Oh, there is something else very interesting about Silver City that I learned at its museum. Silver City is home of the big ditch, which provides a graphic lesson in how to not go about city planning. The big ditch was once the main street in town, but that was before an optimistically designed city grid was laid unrealistically upon uncooperative terrain; and this collided coincidentally with torrential summer rains, logging of the surrounding hills, and local overgrazing. For 40 years thereafter the ditch became a delivery system for mud baths straight to your front porch. It flooded each year ruining houses, businesses, and floating away grand pianos, until the 1930s when the CCC managed to tame it. You pass over the big ditch on your way out of Silver City on the road toward Lordsburg. It is the arroyo that looks like the Corps of Engineers designed it, lined nicely with concrete and rip-rap.
Friday
I'm sorry. Did I say that Silver City was the biggest disappointment? I meant to say Bowie, Arizona. My grandmother was a Bowie, and when I was mere boy, she often wondered allowed about what was at Bowie, and Ft. Bowie. She's been gone for many years, and I'm glad I don't have to report to her about what I found. Bowie is abandoned buildings. There were some noisy roosters who thought that my headlights, which I used to illuminate the town sign while I took my own picture, were the rising sun. There is no museum in Bowie.

As the day wore on I drove through Sonoita and Patagonia on my way to Nogales. My destination was an old mission at Tumacacori. Long ago my grandfather had a polo buddy named Gil Proctor who settled in Tucson. Gil wrote a book about Pete Kitchen's Ranch. It isn't a thoroughly researched history, mostly it repeats the myths started by Pete himself, but it does have a nice color shot of the Tumacacori Mission on the frontispiece. I thought I'd like to revisit the site, myself. Along the way I saw wildflowers, and wild chases as illegals ditched pickup trucks, leaving behind youngsters to the mercy of the Border Patrol.

Tumacacori--The mission.
Now here is a problem more intractible than the flooding main street in Silver City. A flood of illegals pour across the border each day. Having paid coyotes (as they are called) to leave ramshackle vehicles in strategic places, the illegals try to getaway north through roadblocks manned sometimes by the military and sometimes by the Border Patrol. They are pursued by the Border Patrol, sent home, and the ramshackle vehicle heads up to Tucson to be auctioned to the same coyotes again. It is one miserable recycling scheme. Over north of Douglas one farmer had signs in his alfalfa fields begging to "Stop the Invasion."
I thought of stopping in Tubac, but it is too early in the season. The tourists have run of the place yet, and they won't go home for another month or so. On the way to Tucson I passed by the Duval and Pima mines, which are very large holes in the ground surrounded by piles of rock. If you want to see what they look like refer to the photograph above.
I reached Tucson and made it to the University of Arizona at about 3pm to see a couple of graduate school friends. One of them is now department head of geology, which means that we all go to a seminar. It's what department heads do. It's pretty dull even for a seminar, and in fact seems more dull the more we think about it that evening.
Tucson is basketball crazy, tonight. The wildcats are playing Ol' Miss in the sweet sixteen, and at 5:45 there is hardly a person on the streets. Everyone is in some home or bar watching the game. Ten days from now they'll tear up the town and burn vehicles for some vague reasons about the ecstasy of loosing to Duke in the finals.
Saturday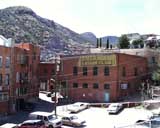 Bisbee is a tourist town. I stopped to get a picture of houses built up the canyonside. Bisbee also has a large abandoned mine at the east edge of town, the Lavender Pit. Most decent towns in southern Arizona have a pit or two. You can refer back to the photo above if you want to see what it looks like.

Like any tourist town, Bisbee also has a museum. There is something a guy can learn from each of these museums, and that is why I always visit them. From this one I learned that Bisbee was a very peaceable town, but had an unearned reputation in the eastern press as murder incorporated with a mayor and town council form of government. In fact Tombstone, outside of the gun fight at the OK corral, was a peaceable town; as was Cheyenne, and lots of other places that Hollywood and the media manage to tar for profit. Dodge City might have been a vicious place, but this was just after the Civil War, remember, and most of the unpacified south had moved out west. In fact, the gunfight at the OK corral was, essentially, just a factional feud between the Clanton's, who were Democrats with confederate sympathies, and the Earps who had fought in the Union Army and were hardcore GOP. The myth of the violent west makes for grand theorizing about the psychological effects of gun-toting, but there were probably fewer people killed in gunfights in the old west than were murdered by Cochise and Geronimo, who are more or less national heros; and just to be balanced, here, far fewer than the number of American Indians murdered by the US Army.

Cochise's Stronghold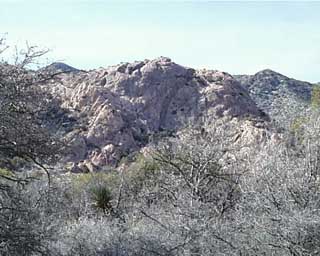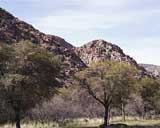 Speaking of Cochise, on the highway map of Arizona I noticed a National Monument called Cochise's Stronghold, which I knew nothing about, and drove for several hours from Bisbee to Douglas and then north to get there. It is down a paved road, which becomes a paved road with potholes, which becomes a gravel road, which becomes gravel with potholes, and I finally forded a small river 6 times with my rental car. I'm pretty certain that this was forbidden in some paragraph of my rental contract. It was such an obscure locale that I worried about Cochise still running the outfit at the end of the road. He hits tourists in the head with an ax and takes their cars to Mexico. Actually there is nothing at Cochises Stronghold but camp grounds. It seems like a very nice place to camp; and, while I'm on the subject, camping in the desert southwest provides the most glorious nighttime skies of any place on earth. The stars are bright--they don't twinkle. It is worth a trip to the southwest just to see what stars should look like. Be sure to bring a telescope. Getting back to Cochise's Stronghold, the photographs below show something of the accessible parts of the stronghold. You can see why neither the US Army nor the Mexican Army could capture him.
My last stop of the day is a ghost town named Fairbanks, which is only a few miles from Sierra Vista. It isn't the sort of ghost town that Hollywood produces. In the first place in wasn't abandoned until the 1940s, which means it is full of old cans of refined products, galvanized metal, wire screens and so forth. It doesn't convey the romance of greying and weathered wood. In the second place, there is little to see despite its having been a ghost town only 50+ years. People have salvaged nearly everything. The photograph below shows the most interesting parts of Fairbanks.
Sunday
I flew out of Tucson this morning. There is little to tell, so I'll end with a photograph of early spring flowers in the desert near Tumacacori. Adios.